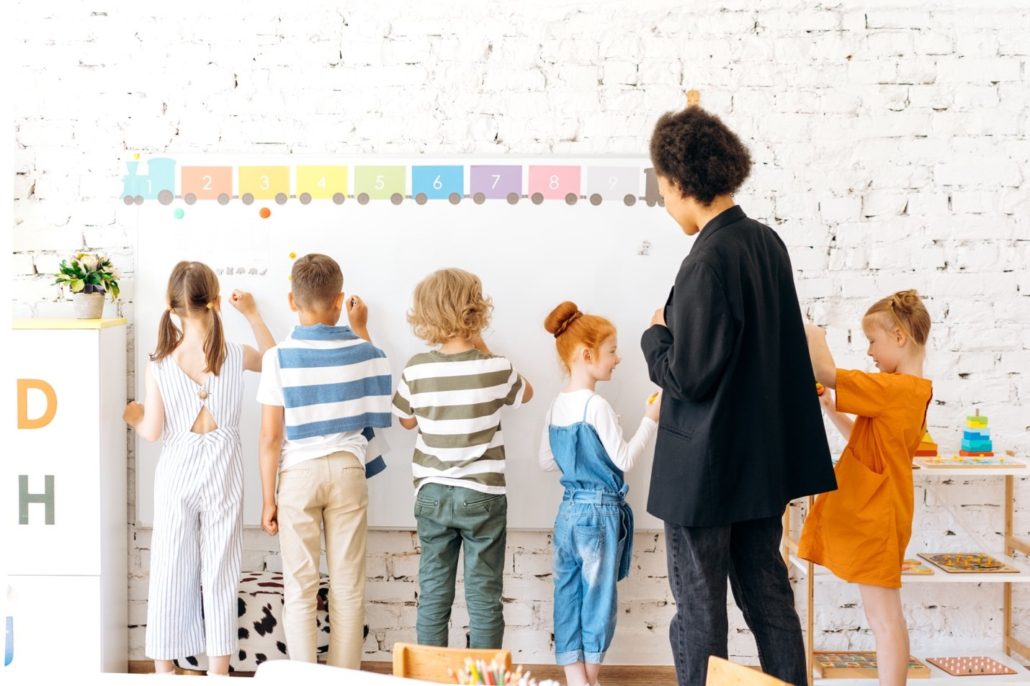 You've likely heard of the Child Development Associate (CDA) credential and may be wondering "what is the CDA credential?", and how it can potentially benefit your career in child care?
The CDA credential is a nationally recognized early childhood education credential that can open doors to new job opportunities and career growth. In this blog post, we'll discuss "what is a CDA license" and answer some of your most frequently asked questions about the credential.
We hope this post will leave you feeling informed and confident in your decision to pursue obtaining your CDA license!
What Is CDA Certification and What Does It Stand For?
A CDA certification, or CDA license, is a credential that demonstrates an individual's competency in childcare.
The Child Development Associate (CDA) credential is issued by the Council for Professional Recognition and is recognized across the United States as an early childhood education certificate.
To earn this credential individuals are required to demonstrate their knowledge and skills through coursework, professional experience, and a professional portfolio.
This national credential can open career advancement possibilities in many childcare centers as it reflects what individuals have learned and practiced so far in their field. It provides validation of what professional qualities they possess which can be very helpful when applying for jobs or promotions.
A CDA license can also prepare individuals to work in other roles such as a preschool teacher or special educator.  Having a CDA certification is recommended for anyone looking to break into the world of early childhood education or further advance their career.
What is CDA certification? What is Required to Obtain Your CDA Licensure
Having a CDA certification in early childhood education helps to ensure a continuity of care when it comes to working with children across the thousands of certified professionals.
It's important to remember what a CDA certification is: a credential that recognizes the educational achievements as well as knowledge attained through work experience in early childhood education.
The CDA typically requires completion of a course from an accredited college or university, at least three semesters (or 480 hours) of classroom instruction, and supervised experience in practicum settings prior to getting your certification, the Council for Professional Recognition will review your qualifications and ensure you meet the standards needed to have your CDA license.
Applicants must also have at least 120 hours of formal education specific to a field within Child Development and have experience in an early childhood setting working directly with children. Additionally, applicants must apply for the CDA candidacy, take part in a one-time verification Visit, complete the reflective statement, and then attend follow-up visits.
Generally, this entire process can take up to 2 years in duration depending on what is required by each individual's credentials.
Eligible Professional Work Experience
Paid or volunteer hours.  These must be completed prior to you submitting your initial CDA application.
Non-Eligible Work Experience Hours
Babysitting, before and after school programs, Sunday school programs and drop-in programs are not eligible settings where a candidate can prove his or her competence around the Competency Standards and experience hours in these settings, and therefore will not be counted towards the 480 hours of experience.
Achieving this credential offers many benefits such as job recognition, increased wages, and potential career advancement opportunities.  By acquiring this license, those in the field can demonstrate their commitment to professionalism in their field and enhance the level of trust they have with employers, while simultaneously demonstrating a commitment to their own professional development.
What is a CDA License? How to Ensure Your Training Hours are Accepted
All training must have been taken under the auspices of an early childhood training agency that has expertise in teacher preparation. Official documentation of the training must be provided in the form of a certificate, letter on official letterhead or a college transcript.
Training documentation should include the following: Training agency's name and address (seal/logo), Candidate's name, date of the training session(s), content area, number of hours successfully completed, and an authorized signature.
How do I convert my clock hours into training hours?
Please use the following formulas to convert your clock hours to training hours:1 CEU = 10 clock hours
1 Semester Credit = 15 clock hours
1 Quarter Credit = 10 clock hours
1 DHS Credit = 1 clock hour
1 Unit = 1 clock hour
To be eligible to apply for your first CDA, you need:12 CEUs = 120 clock hours
8 Semester Credits = 120 clock hours
12 Quarter Credits = 120 clock hours
What is CDA Certification? Maintaining Your Credentialing
After obtaining the CDA certification, it must be renewed every three years by completing professional development activities such as workshops, college courses or conferences.  It is to be noted that this renewal was every five years, up until November 2022, where it was changed to a three-year renewal period.
Why Was it Changed from Three to Five Year Renewal Periods?
After doing a study of industry standards for credential and certification renewals, the Council concluded three years is an efficient amount of time to reevaluate the continued professional development and performance of early educators. The early care and education profession is very delicate, and it is imperative for early educators to stay up to date with the latest theories, research/studies, appropriate practices, and latest trends in the early childhood education field. The continuous professional development of CDA Credential holders is a must to ensure the quality of care and education provided to our nation's youngest children.
Upon renewal, you will need to show proof of ongoing contacts with teachers or specialists in the early childhood field. To apply online or to view more information on renewals, you can find downloadable materials and applications on cdacouncil.org.
What is a CDA Certification? Are There Ways to Obtain Financial Assistance?
Child Care Aware of Missouri is a helpful resource for those seeking financial aid to complete your CDA certification. Child Care Aware of Missouri offers a range of resources such as financial assistance, tuition grants, and online training material.
Through Child Care Aware's Financial Support Program, families can apply for tuition assistance or grants to help cover the cost of tuition and registration fees associated with pursuing their CDA certification.
For example, the Child Care Professional Student Tuition Grant is offered to those who are enrolled in an accredited Child Development Associate Credential (CDA) program. This grant offers up to $500 in tuition assistance that can be used towards CDA coursework and expenses related to the credentialing process.
Families can also apply for the Early Childhood Professional Tuition Grant which provides up to $500 in financial support for those enrolled in courses that meet requirements established by the National Association for Education of Young Children (NAEYC), Missouri Department of Health & Senior Services, or Missouri Division of Professional Regulation.
In addition to tuition grants and other forms of financial assistance, Child Care Aware of Missouri also provides online training materials which focus on topics such as child development basics, health and safety practices, cultural awareness and appreciation, positive guidance techniques for young children with challenging behaviors, teaching methods for early learning activities, and much more.
The online interactive lessons offer students an opportunity to learn at their own pace while deepening their knowledge base around key concepts related to early childhood education. Furthermore, these training materials provide individuals with insight into best practices when caring for young children as well as information regarding professional development opportunities offered through local organizations, universities, and vocational schools.
We encourage you to utilize the Child Care Aware of Missouri resource available to those seeking financial aid or additional educational resources in order to complete their Child Development Associate Certification.
Whether it's applying for a tuition grant or brushing up on foundational concepts related to early childhood education- there are plenty of helpful tools available through Child Care Aware of Missouri that can assist individuals in reaching their professional goals within the field of child care services.
What is a CDA Certification? Wrapping up and The Process A-Z
In Missouri, obtaining a Child Development Associate (CDA) is an important step for those interested in pursuing a career in early childhood education. Here are some helpful tips to make sure you have the best chance of obtaining your CDA:
First, make sure you understand the requirements. The CDA credential has specific educational, training and work experience requirements that vary from state to state. In Missouri, applicants must have at least 120 hours of training in early care and education topics and 480 hours of documented experience teaching or providing direct services working with children ages birth through five years old. Additionally, applicants will need to meet any age-specific requirements that may apply to their program or employer.
Second, research the various types of CDA programs available in Missouri. There are programs offered through universities and community colleges, as well as online courses and workshops sponsored by non-profits or state agencies. Each program will have its own curriculum and timeframe for completion so it's important to find one that works best for you and matches your goals.
Third, once you've chosen a program it's time to get started on the application process. You'll need to fill out an application form which includes personal information such as address, contact information, educational background, and work experience. You may also be asked to provide letters of recommendation from employers or teachers who can vouch for your skills and character.
Fourth, once your application materials are submitted it's time to take the assessment test that is part of the CDA credential evaluation process. This test covers general early childhood knowledge as well as key topics related to child development such as health safety nutrition and guidance techniques for working with young children. It's important to prepare beforehand by reviewing study guides available online or provided by your chosen certification program provider before taking the test itself.
Finally after submitting all application materials taking the assessment test and passing it with a score of at least 80 percent you will need to complete a professional portfolio demonstrating your knowledge skills work experiences observations lesson plans etc related to caring for young children once this is finished you should receive notification within two months if you passed or not.  Once approved you will become a nationally certified Child Development Associate enabling you to pursue a career in early childhood education in Missouri!
The CDA credential is a great way to set yourself apart from other candidates when you are applying for jobs in the field of early childhood education. It shows that you have taken the initiative to obtain additional training and that you are committed to providing high-quality care to children. The process of obtaining your CDA credential can take anywhere from several months to a year, but it is well worth the effort.
Once you have obtained your CDA credential, you will need to renew it every three years by completing professional development activities and submitting a portfolio documenting your work with children. There are many benefits to having a CDA credential, including improved job prospects, increased self-confidence, and recognition by peers as being a leader in the field of early childhood education.
If you are interested in pursuing your own CDA credential, reach out to the friendly staff at Child Care Aware of Missouri for further information on your journey!
https://mochildcareaware.org/wp-content/uploads/2020/06/Child-Care-Aware-Logo-web.png
0
0
admin
https://mochildcareaware.org/wp-content/uploads/2020/06/Child-Care-Aware-Logo-web.png
admin
2023-01-03 10:29:32
2023-06-21 12:22:23
What Is CDA Certification and How Can It Benefit My Career?