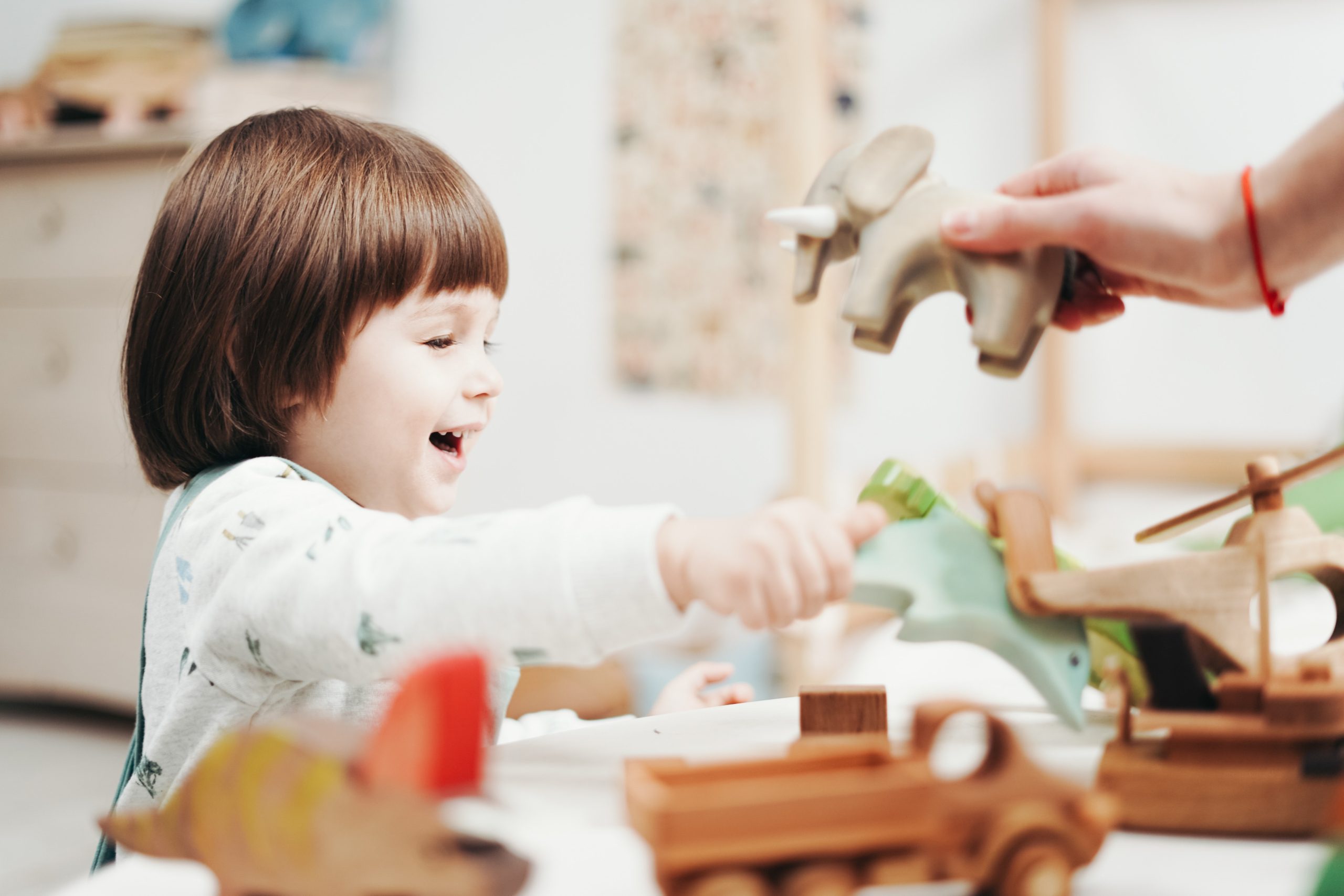 Embarking on a child care search is a daunting task. It's a very complex field, and it's hard to know what to look for in child care providers. Plus, emotions are running high. You're looking for someone to take care of your child, which is pretty high stakes, and it might be the first time you've left them in the hands of someone you don't know personally. If you've been having trusted family members watch out for your little ones when you can't, making a change can be hard. A child care search has to take into consideration all these factors and more.
We're here to make it easier for you. Here, we're going to take you through all the things you need to look for in your child care search. Whether you're looking for daycare in Columbia, MO, infant care in Springfield, or any other kind of child care anywhere else in the state, Child Care Aware of Missouri is here to help. Our goal is to connect you with the resources you need to make sure your child care search comes up with good results and you feel confident in leaving your children in capable hands. 
Now, let's get into it. First, we'll look at how to identify good candidates in the initial stage of your child care search.
Where to Find Good Child Care
You can look up Missouri's database of child care providers here. You can search for the records regarding a specific child care facility you're interested in, or you can search for a particular location and find a list of child care providers in that area. These geographical searches can be narrowed down to a specific city, zip code, or county. You can also narrow down your search depending on the type of facility you're looking for. If, for example, you're not comfortable with license exempt programs, you can exclude those from your search.
Then, you'll get the results of your initial child care search. You can look at the results of their most recent inspections and check if they have any pending violations, and if so, the nature of those issues.
Once you've got a handful of facilities you're interested in that are conveniently located, then you're ready to reach out to them to ask some questions and potentially get a tour. That leads us to our next section.
Questions to Ask in Your Child Care Search
When you reach out to these child care providers, you're going to have other things you need to know to make sure they're a reputable place to entrust with your children. We've put together some of our most important questions to ask them.
1. Family Involvement
How involved are the families allowed to be? If spontaneous visits from parents aren't allowed, that's a potential red flag. You want to make sure there's good communication between you and your child's caregiver, and making sure the whole family can get involved is a good step in that direction.
2. Group Size and Ratios
In a licensed child care facility, the maximum group sizes and ratios of children to caregivers are mandated by the state. Check your local authorities for the rules where you live. In Missouri, there must be one adult for every four children under the age of two, one adult for every eight children who are two years old, one adult for every 10 children three through four years old, and one adult for every 16 children who are five and up. The rules are a little different and more complicated for groups of mixed ages, and if you'd like to read the whole guidelines, you can check them out here.
Obviously, the lower the ratio, the better. Especially if you're looking at larger centers in your child care search, you'll need some assurance that your child is getting individualized attention. You want to make sure that your child won't get lost in the shuffle. As long as the facility is following the state's regulations, it should be fine, but you should still ask to make sure!
3. Training and Staff Credentials
You might want to assume all the staff members at a reputable child care center are fully qualified for their jobs, but you should definitely double check. Ask what kind of training they receive on an ongoing basis and what their credentials are. You might be surprised. 
This is also the spot to point out that you need to be asking about staff turnover rate. If lots of the child care providers want to leave after a short time working there, it's probably a good idea to move on with your child care search. A high turnover rate is often indicative of poor management — people tend to want to stay at well-run child care centers.
Most of these questions have been targeted toward bigger child care centers, but if you're more interested in a family home or other small facility, you still need to do your due diligence. Ask how long they've been running their family child care home, and you can ask for references of other families who have been happy with their services.
4. Health and Safety
These questions to ask in your child care search are wide ranging. Let's first focus on food. Ask what kinds of snacks they serve, if any. If your child has any allergies, you'll definitely need to know how those will be accommodated. 
Also, are they planning any field trips? If they're going to be taking your children anywhere, you need to know there are appropriate safety precautions in place when it comes to travel. If the facility offers any kind of transportation services, you need to know that safety is taken seriously while en route to the destination. Ask about all these things and any other safety concern that comes up.
5. Accreditation
You'll need to find out if the program you're interested in is accredited by a reputable organization. Look for accrediting bodies at the state or national level. These sorts of organizations hold child care programs to high standards, and they'll check in periodically to renew those accreditations. You're looking for accreditations from organizations like the National Association for the Education of Young Children, the National Accreditation Commission for Early Care and Education Programs, or the National Early Childhood Program Accreditation. You can also use their websites to begin your child care search. 
6. Unique Needs of Your Family
We've put forward what we think are the top five things to ask about in your child care search already, but we're never going to know what your family needs as well as you do. You should take stock of what you're really looking for in a child care provider and make sure anything we haven't listed here are at the top of your list of questions. 
Daycare in Columbia, MO: An Example
Now, we want to move into a practical way to use this information about child care searches. Let's take daycare in Columbia, MO, as an example. We're going to compile all the child care search steps we've already identified in this piece and put them together in a hypothetical situation with a fictional parent looking for daycare in Columbia, MO. 
We're choosing a search for daycare in Columbia, MO, because it's a good size for comparison. If you're looking for daycare in Columbia, MO, then you've got some options to choose from, but probably not as many as you would have in a bigger city. If you were conducting a child care search in a more rural area, then you might really have your work cut out for you. Plus, since we're mainly focused on Missouri child care searches here, it's centrally located. That combined with the fact that there are enough facilities providing daycare in Columbia, MO, make it a good example.
Daycare in Columbia, MO: Initial Child Care Search
So, imagine you're a parent in Columbia. You're ready to go back to work after welcoming your first child, and you need to find a reputable person or facility to care for them. How do you start your child care search?
Like anywhere else in Missouri, a great place to start looking for daycare in Columbia, MO, is the Missouri Department of Elementary and Secondary Education's search engine. The parent in our example would select Columbia as the city, or they could put in a zip code or search all of Boone county, depending on how far away they're willing to go for child care. They can also narrow their search according to the type of facility they're interested in. Let's say they're looking for child care centers only. They would check that box and hit "search." 
Daycare in Columbia, MO: Sifting Through Results
Then, they have a whole list of child care centers for our hypothetical parent to scroll through. You can see their hours as well as the ages of the children they serve right away. Since this parent has an infant, they'll be looking for a daycare in Columbia, MO, that caters toward those youngest kids. They can quickly rule out any that only take care of older kids. They can also scan for the hours that work best for their schedule. Finally, they can make note of the addresses and telephone numbers of the options for daycare in Columbia, MO, that fit their needs.
You can also click on any child care centers that catch your eye and check to see how they fared in their most recent inspections. The state keeps records of any violations they uncovered and when those were resolved, if they were. This information can help you move to the next stage in the child care search process.
Daycare in Columbia, MO: Making Decisions
Now our imaginary parent has a short list of options from their initial child care search. It might be tempting to call the first one, enroll, and call it a day, but as you already know, there are other considerations in play.
Our example parent needs to reach out to the different child care centers on their short list and do some research to make sure all the questions we outlined are answered. Some might be addressed on their website, if they have one, but others will be more opaque. Our parent will need to give them a call and potentially schedule a tour of the facility. There are quite a few options to choose from when it comes to daycare in Columbia, MO, so these questions and criteria can be a good way to figure out which ones stand out from the rest in your child care search.
Finally, our hypothetical parent takes all those answers into consideration and chooses a child care center. Their child search for a daycare in Columbia, MO, is a success!
Now you're prepared for your own child care search.
Hopefully, our little example paired with the rest of the information we've given you here is enough to get you started on your own child care search. You should be armed with a good place to start, whether that's through the state's database or on an accrediting organization's website. 
Then, you're ready to ask some questions. There are the basics you should always cover, like health, safety, and caregiver credentials, and then there are the qualities you're looking for specific to your family. You might need specific hours, or you might prefer one kind of preschool philosophy over the others. Location and price are also considerations, as well as what type of child care facility you'd prefer. There are small, family-run child care operations that care for a handful of children in their home, and there are also big child care centers that employ many teachers and caregivers. There are also lots of options in between. You'll need to consider the pros and cons of each style of child care before you choose one.
Now, you should have everything you need to find a reputable place to care for your children during the day. Whether you're looking for daycare in Columbia, MO, or elsewhere in the state, you can check out Child Care Aware of Missouri for further resources. We've got lots of great information about child care where this blog post came from.
https://mochildcareaware.org/wp-content/uploads/2020/06/Child-Care-Aware-Logo-web.png
0
0
admin
https://mochildcareaware.org/wp-content/uploads/2020/06/Child-Care-Aware-Logo-web.png
admin
2021-11-22 12:11:47
2021-11-22 12:11:47
How to Get the Best Results from Your Child Care Search