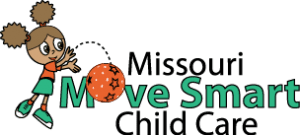 Physical activity is important for children's bodies and brains. MOve Smart Child Care is a program that offers recognition for child care facilities that follow best practices in physical activity for young children. MOve Smart recognition is available for any early care and education facility including child care centers, Head Start sites, family child care homes and group homes. Are you ready to learn more about MOve Smart? Start Here
Check out the MOve Smart child care programs in your area. View Programs
Workbook
As a child care provider, you want to do what's best for the children in your care. This workbook not only tells you what practices are best, it also gives practical tips on how to make these practices a part of the child care program's daily routine.
Training
As part of the program, you will have access to online training that is available when you are and meets child care professional development clock hour requirements.
Application
Apply to become part of the program and take your first action toward MOve Smart recognition.
Resources
From toolkits to nutrition guides to examples of fun, physical activities for kids, this is where you will find tons of ideas to keep kids active and healthy.